Return to | MPM Workshop | Travel and Accommodations |
Venue
The MPM Workshop will be held in Richardson Hall, Room 107, on the Oregon State University campus. The room is marked on the snapshop map given below: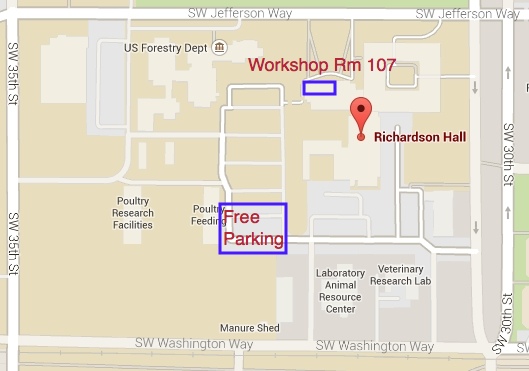 Click here to visit Google maps centered on Richardson Hall.
Parking
Thanks to a special September deal, you can park for free (and with no permit) in the lot designated above as "Free Parking". This lot is the closest university lot to the meeting room. Be sure to park in the south west corner of the lot in one of the first four rows of spots. The parking north of that zone is reserved for US Forestry Department while the parking east requires a permit. The "Free" zone may or may not be marked with a new parking designation of "BR", but may still say "Faculty" or "Student" parking. The new "BR" zone takes affect on October 1.
If that "Free Zone" is full (unlikely), the entire Reser Stadium lot is also allocated for free parking (no permit required despite any signs) in September. Reser Stadium is the college football stadium and about 5=10 minute walk and southeast of Richardon Hall (see expanded map).