Who was Edmund Hayes?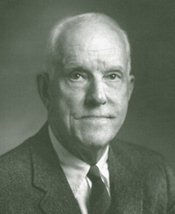 Edmund Hayes was born in Eau Claire, Wisconsin, in 1895, into a family already involved in the timber industry. In 1900, his maternal grandfather, Orrin Henry Ingram, was one of Frederick Weyerhaeuser's associates in the purchase of 900,000 acres of western Washington timberland for the price of $5,400,000, or about six dollars per acre. This purchase set Weyerhaeuser's company on the path of owning its own timberlands and thus being responsible for the long-term stewardship of those lands—a new idea in the timber industry at that time.

After his education at Princeton and Harvard and military service in World War I, Edmund Hayes came west to get an education in the forest products industry. After several jobs for Weyerhaeuser, he founded the Clackamas Fir Lumber Company in 1929. His small mill was located southeast of Oregon City, and he managed to keep his mill going through most of the Great Depression.

Later Hayes bought shares in the Row River Lumber Company and supervised the construction and operation of a sawmill east of Cottage Grove. In 1938 he took a position on the board of directors for Weyerhaeuser.

In 1946, Hayes became Weyerhaeuser's vice-president in charge of the company's operations in Oregon. He also stayed directly involved with managing small forests and woodland properties. With a partner, he bought 5,000 acres of second-growth timber southeast of Astoria in 1944. Their goal was to use new forestry science to manage the land through selective logging and replanting.

Throughout his career as sawmill owner, small-woodland owner, and board member of a giant forest products company, Edmund Hayes used his influence to work for reform in the timber industry. Early in his career, he developed a strong belief in the need for reforestation and investment in silviculture. He was one of the founders of Willamette Valley Tree Farms in 1941, an organization that allowed several timber companies in the Eugene area to share the services of a forester. The organization's mission, expressed in its slogan "We Grow Trees," was highly progressive for the time, when reforestation consisted mostly of leaving seed trees in logged areas.

In the late 1930s Hayes was one of the original organizers of the Keep Oregon Green Association, an organization that promoted forest protection and prevention of forest fires. He also made one of the first contributions to the Western Forestry Center (now the World Forestry Center) in the 1960s, believing that it was important to educate the general public about forestry and the value of forests to society.

In 1965, when he was 70, Edmund Hayes retired from his position as head of Weyerhaeuser's executive committee. By then, reforestation after logging was becoming common practice in Oregon. Although the Oregon Forest Practices Act was not enacted until 1971, many timber companies were routinely planting trees after harvest, and some second-growth trees were getting large enough to be harvested (from Focus on Forestry Spring 2001).